Two (2) is an orange Numberjack with hazel-colored eyes. He has trouble counting because he's very young.
In Out For The Count, Two makes people count incorrectly, causing trouble.
In the ending of Slide and Turn, he was incorrectly referred as female ("she") by 6.
In The Container Drainer, he reminded the Numberjacks that there was an agent calling.
Missions
Trivia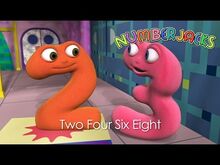 Out of every Numberjack, Two is the only one without an "All of Two's Missions" video.
Gallery